In today's era, impressive and strong online presence is the need and demand of any business or organization to grow exponentially in this fast-paced environment. Digital Marketing can also be termed as 'Internet marketing'. There are different digital marketing channels that include websites, search engines e.g. Google, Bing etc., social media platforms, email, and mobile apps. These days lots of business earn most of their revenues from online business because of global online presence.
There are various types of digital marketing services available that need to be performed for effective search results and strong image building of the products and services of any company, The different digital marketing services that we provide are listed below: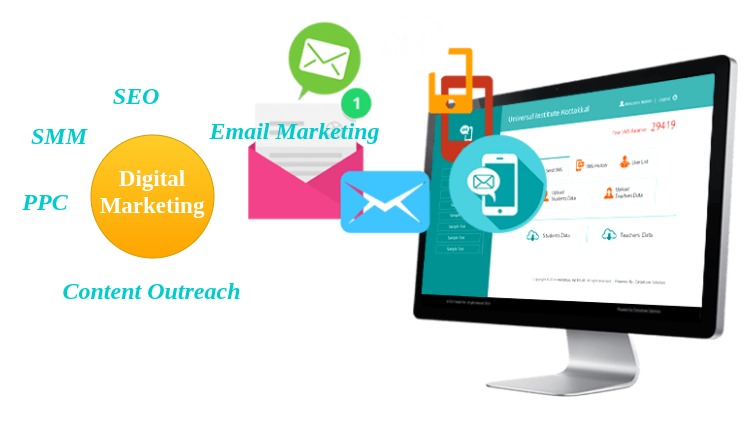 Search Engine Optimization:

It's a way of optimizing web pages to appear higher in the search engine results for a target set of meta-tags. This improves visibility on search engine tools like google, bing etc. of the website.

Social Media Marketing:

It comprises the use of social media websites and social network platforms to promote the company's products and services.

PPC:

PPC ie. Pay-per-click is a technique of using search engine advertising to generate clicks to your business, rather than "earning" those clicks in a general way. for eg, display ads which pop-ups first with label 'Ad' when you enter anything to search on search engines. that's PPC advertising.

Content Outreach:

The Content Outreach Module of digital marketing introduces the concept of content seeding and how to use those content effectively over multiple social media platforms.

ORM:

ORM ie.'Online Reputation Management' deals with everything about your company's brand and reputation in the online world.

Brand Building:

Brand Building is a way to actually enhance the company's brand recognition and image through different strategies and tactics.

Native advertising:

It is a type of advertising, mostly online, that matches the form and function of the platform upon which it appears. It is a paid form of media advertising.

Re-marketing:

Re-marketing is a technique of showing targeted ads to the people who have already visited or taken action on your website.

Email-marketing:

Email marketing is a way to reach consumers directly via electronic mail. It is done in the form of different email marketing campaigns.