Salesforce – a popular IT platform that has become synonymous with Customer Relationship Management (CRM) systems. According to a study by International Data Corporation (IDC), nearly 19.5% of the world's businesses use the robust suite of software applications.
This widely used IT system comes with a plethora of highly useful features, which when combined with its unrivaled user-friendliness make it the preferred CRM platform of businesses. According to a report, users of Salesforce are able to reduce the time needed to make decisions by almost 38%, increase their sales revenues by nearly 25% and improve customer satisfaction rates by approximately 35%.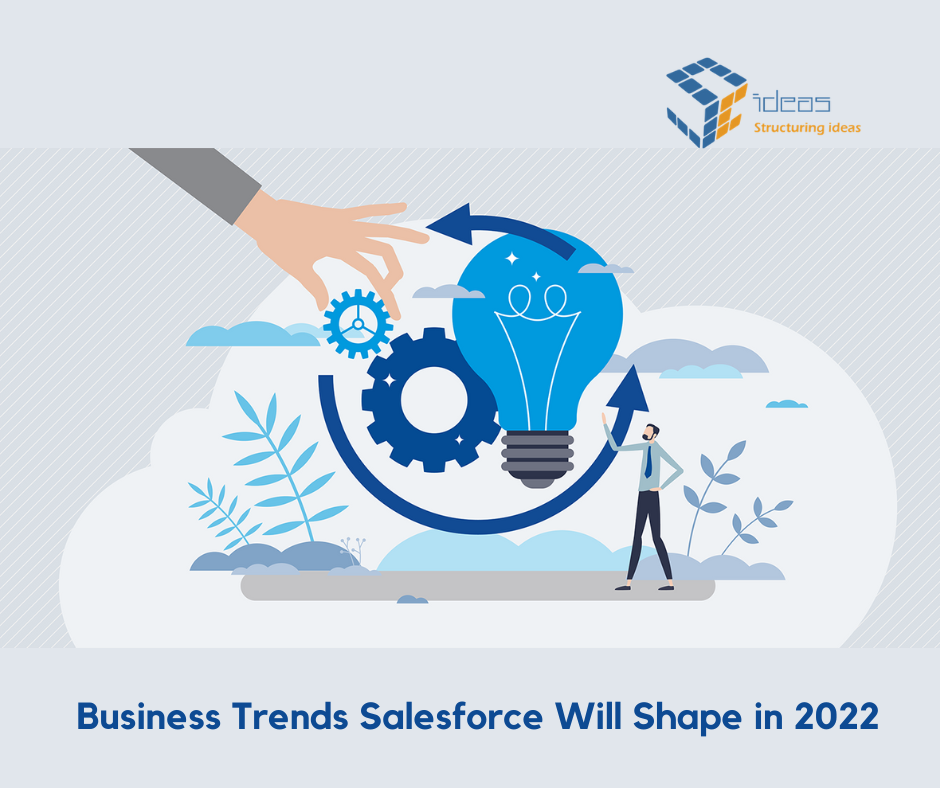 Salesforce-enabled Trends that Will Rock the Corporate Landscape
Efficacy of Employee Healthcare Systems Set to Improve Considerably
The outbreak of the COVID-19 pandemic has made employee health the top priority of organizations. Companies want to ensure their people are able to work together with clients, prospective customers and business partners safely. To meet this requirement, Salesforce has come up with Health Cloud 2.0, a user-friendly solution that will help firms ensure the safety and well-being of their employees.
Salesforce has developed novel products to combat the pandemic. They have released a robust vaccine management solution, which is used extensively across the world. Health Cloud 2.0 will empower companies to organize safer in-person events for their people, clients and other stakeholders. The product facilitates hassle-free management of attendee registrations and verification of COVID-19 vaccination status. The product will also be very useful to ensure effective implementation of the hybrid work model, which many firms are embracing.
The Salesforce product also allows businesses to streamline contact tracing. Companies can collect all required data from people who are infected by the virus or exposed to it. Organizations can also develop visual maps of contacts to identify and prevent likely outbreaks.
Delivery of Seamlessly-connected, Fully-contextualized Experiences Across All Channels
The number of customers demanding fully-connected, perfectly-contextualized buying experiences across all channels is growing, and this trend is only likely to continue. In fact, the results of a survey conducted by Salesforce reveal more than 76% of B2B buyers expect companies to ensure seamless interactions and comprehend how they use the organizations' products.
However, providing good contextualized buying experiences on demand can be a daunting task, as customer data is gathered at multiple touchpoints, through various channels. "Companies interact with clients using different channels – their websites, social networks, e-mails, phone calls and in-person visits to customer offices. Ensuring all this data is utilized in real-time to delight customers is very difficult," 
Salesforce Commerce Cloud is the solution that businesses rely upon to get the big picture of their customers' needs. "Commerce Cloud helps companies get a single view of customer activities across marketing, sales and service, no matter where they occur. This empowers the organizations to have the right interactions with the customer at all touchpoints, across all channels," explains Sudhakar.
Accuracy of Lead Scoring Is Likely to Increase Significantly
For decades, companies relied on intuition and guesswork to predict whether a prospect would turn into a dollar-giving customer. However, over the last few years, many firms started using predictive analytics to forecast a sale in a very precise manner, and this trend will continue in 2022 – the new Salesforce Sales Cloud Einstein Lead Scoring will help organizations forecast deals very effectively. The Salesforce product helps perform forecasts using solid data, ensuring high levels of accuracy.
"Salesforce Sales Cloud Einstein Lead Scoring leverages data pertaining to customer behaviors, actions of competing firms and engagement of prospects with high efficacy, to recognize unique patterns that enable a business to assess whether a prospective client is likely to make a purchase. You can also identify potential deals that are at risk and initiate appropriate steps to prevent them from getting lost," 
The data analytics tool is designed keeping the non-technical salesperson in mind. The application can be used to carry out statistical operations without any coding. The novel tool can be accessed using any connected device, including mobiles, anytime, anywhere. This allows salespeople to obtain real-time insights, enabling them to sell successfully.
Deployment of Salesforce Apps in the Cloud Will Become Seamless
Over the last few years, there has been a phenomenal increase in the number of organizations adopting cloud-based solutions, and this trend shows no signs of slowing down. The results of a study by Research and Markets revealed the global market for cloud computing products is expected to register a Cumulative Annual Growth Rate (CAGR) of 19.1% between 2021 and 2028, reaching more than $1.25 trillion at the end of the 7-year period. To meet the needs of growing numbers of users of the cloud, Salesforce has released a robust solution called Hyperforce.
Salesforce Hyperforce is a reimagined version of the IT giant's platform architecture and enables businesses to deploy their products on major public clouds in a secure, hassle-free manner. The Salesforce product allows organizations to use cloud computing capacities as needed, ensuring high levels of flexibility. Resources can be deployed in the cloud in just a few days, while it was taking several weeks or even months earlier.
Another key advantage of using Hyperforce is data can be stored at a specific location as mandated by regulatory authorities. The feature-rich product also helps companies secure their data in the cloud very effectively by encrypting the data and creating multiple levels of user access.