In 2022, Salesforce is again making every effort to become the ideal choice for enterprises that want to start fast and scale big. The software's efficacy combined with several useful resources and communities, including the Trailblazer community, has made Salesforce the de facto choice for enterprise cloud software. The world's #1 CRM has some big plans for 2022 with their upcoming product releases and feature updates. Here are some of them:
Work.com will ramp up to deliver better employee experiences
One of the toughest challenges that employee-centric businesses faced during the pandemic phase was managing employee experiences. Even onboarding of new employees and managing transitions proved to be chaotic. Salesforce launched work.com in May 2020 with the aim of creating a new way to work during the new normal. Work.com can be rightly regarded as a Salesforce offering for employee experience management. It also puts businesses in a position to treat employees like their most valued customers.
Source: https://www.salesforce.com/news/press-releases/2020/10/20/salesforce-announces-new-work-com-employee-productivity-and-communications-apps/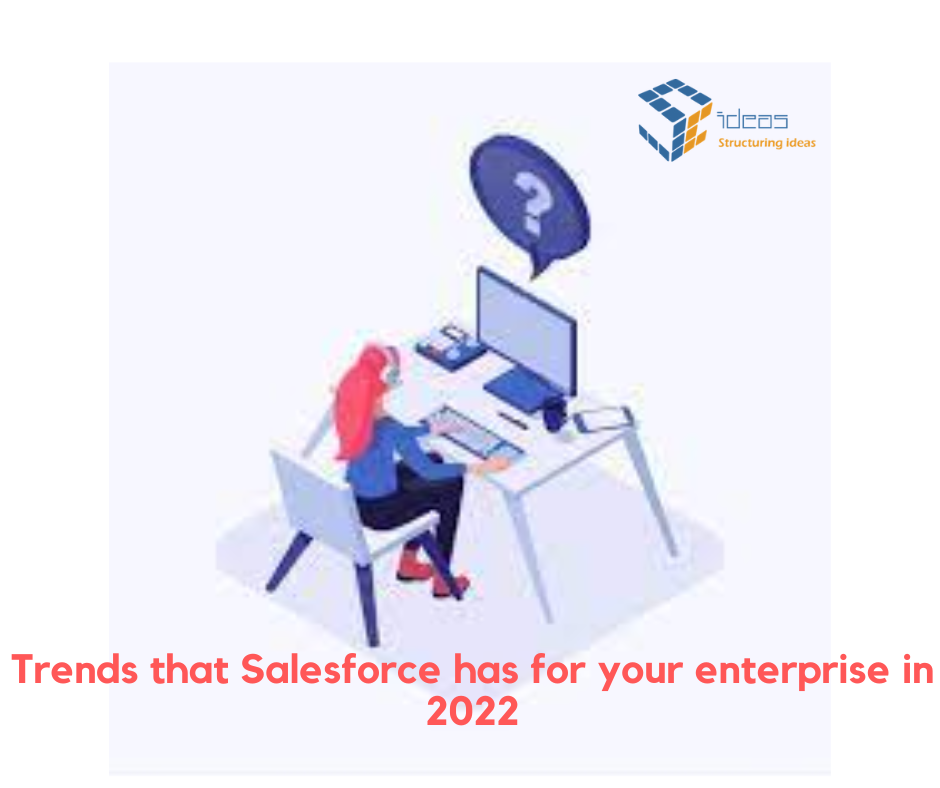 Work.com offers four critical benefits to businesses that are trying to manage a hybrid workforce.
Safeguard employee health and wellness, especially that of frontline employees coming in direct contact with external environments
Build trust with employees and customers by bringing in the transparency of records and employee journeys
Empower employees with self-service tools that will help them solve problems without waiting for technical intervention
Provide a customer-like experience to employees while working with internal stakeholders
The Employee Helpdesk Software feature (launched in October 2020) promises to deliver a seamless employee experience. The helpdesk feature allows employees a unified way to request IT assets, services, and internal approvals critical for carrying out their responsibilities.
In 2022, work.com could evolve further to take on the avatar of a full-blown HR suite. It will become the single touchpoint for employees where they can find all their organizational information, track employment journey, manage onboarding documentation, track training modules, and so on. It will also act as a self-service concierge that will enable employees to find solutions on their own without having to call HR or Admin or even vendors.
Slack integration will become more capable
Salesforce's Slack acquisition in 2020 for a whopping $27.7 billion was perfect market timing. By bringing Slack under its wing, Salesforce is now able to integrate it seamlessly with Customer360 — the ambitious product which offers Salesforce customers a unified view of their customers.
Customer360's objective and promise is to unify all data points about customers in a single interface. All stakeholder teams consisting of sales, marketing, service, IT, and commerce will have a unified view of customer data. This empowers employees to deliver superior customer experiences, especially for businesses that are quickly scaling.
Source: https://slack.com/intl/en-in/blog/news/salesforce-completes-acquisition-of-slack
Since the acquisition of Slack, Salesforce has been strengthening the Slack integration to help users work in a productive and engaging manner without having to hop between multiple screens and tools. The automated workflows and several other Slack features are a great add-on for an enterprise software suite like Salesforce.
"We really want Slack to be the primary engagement surface for our users, their communications, their work, their workflows, and the processes and the apps they support,"
Salesforce Health Cloud 2.0 – A promise for a better healthcare experience
Salesforce Health Cloud 2.0 is Salesforce's range of offerings to empower healthcare providers and practitioners. It will enable them to streamline operations and create personalized patient journeys, just like how a customer journey would be mapped out for a B2C customer.
Salesforce launched Health Cloud 2.0 in September 2021 with the objective of empowering businesses and governments to deliver better health and safety for their employees, customers, and communities.
With Health Cloud 2.0, businesses can easily bring their employees and customers together by delivering healthcare services including COVID-19 testing, vaccination status, contact tracing, and so on. It helps businesses to segue into the new normal where a hybrid work approach is being tested out.
Salesforce Health Cloud 2.0 has four main offerings:
Dreampass – A unified system that will allow businesses to manage in-person meetings, attendee registration management, vaccination status verification, and admission management based on testing results. The pass can also be used to communicate protocol changes or inform possible exposure and send notifications to attendees in a timely manner.
Contact tracing – A simple way for businesses to collect minimal data from attendees in the case of possible exposure. This is a manual method of contact tracing that uses visual maps of contacts to assess exposure.
Vaccine management – A simplified way for governments and organizations to conduct vaccination drives, manage appointments, manage vaccine inventory, monitor outcomes, etc.
Value-based care from anywhere – designed with the objective of providing personalized healthcare experiences in multiple care environments (in-person, remote, or hybrid) to patients by bringing together healthcare providers and external stakeholders.
The safe environment that Salesforce health Cloud 2.0 creates will continue to play a critical role in 2022 and beyond.